Inge Gappmaier – protect. there is no wind in geometrical worlds
For all those who did not make it to the online presentation of "protect. There is no wind in geometrical worlds" on January 17th, the video can now be seen online.
Press
"Gappmaier is certainly one of the outstanding dancers in Vienna's independent scene. In protect. she also proves impressive qualities as a piece maker. With emotional accuracy, the artist lets her figure immerse itself in the isolation bubbles of virtual social life." (Helmut Ploebst, Der Standard)
The video will be available online until the end of February.
In her dance piece protect., Inge Gappmaier creates a hypnotic atmosphere full of suspense by staging a duet with herself. Accompanied by an intensely uncanny soundscape, she stages questions regarding the isolated, narcissist self and its reflection in the digital world.
The key topic of protect. is digital self-observation and the difference between mirror image, virtual self and physical reality. Inge Gappmaier's performance picks up on the practices of ego construction in social media, filter bubbles and their algorithms as well as methodes of self-optimisation in our society. What happens to our concrete body when our gaze gets stuck in our own reflection? protect. puts the body on stage in its self-observation as a contour between nature and culture. It questions protective spaces, structures of control and power as well as loneliness and duality. The piece invites audiences to dive into a multi-dimensional world of geometry, accumulation and intuition.
Inge Gappmaier is a researcher, creator and teacher in the field of contemporary choreography and dance. Her works have been presented at the Landesgalerie Linz, at Tanztage Klagenfurt and at the imagetanz festival in Austria as well as in such international contexts such as the Life Art and Performance Festival LAPSody Helsinki, Tanzplattform Deutschland, Mousonturm Frankfurt, Frankfurt LAB and Ganz novi in Zagreb. Inge Gappmaier taught at the City of Vienna's Music and Art Private University, at Justus Liebig University in Gießen, Germany and Tanzquartier Wien.
Credits
Artistic lead and dance Inge Gappmaier Dramaturgy Lisa-Marie Radtke and Stefanie Sommer Sound design Inge Gappmaier and Zsolt Bodoki-Halmen Light design and technical direction Robert Lässig Photography Natali Glisić Camera and color correction Lukas Schöffel Cutting Maria Lisa Pichler With special thanks to Gesa Bering, Stephan Dorn, Olivia Hild, Martin Gappmaier and Stefanie Sommer the whole brut Wien team. Thanks for the support to Fillimit@KoresponDance, Tranzit House and Reactor Cluj, Arbeitsplatz Wien, Im_Flieger and TanzTheaterPerformance WUK. A production by varukt and imagetanz/brut Wien.
Events
17.01.2021, 19:00
Inge Gappmaier
protect.
there is no wind in geometrical worlds
online film screening / Artist talk

world premiere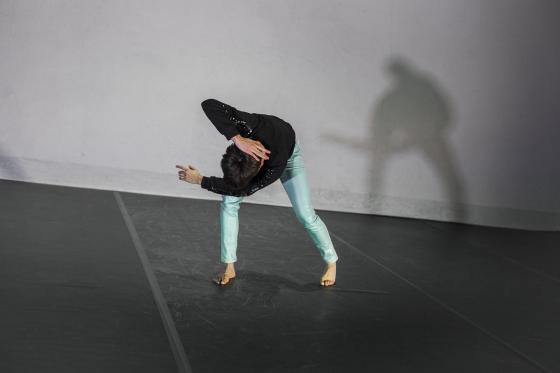 Letters for later
Inge Gappmaier – protect. there is no wind in geometrical worlds
Azra H is interested in performative activism and art beyond the binary. After Inge Gappmaier's "protect." they are writing a letter to their long-haired cat.